What is it
About ?

During Widening Circles: Pickle Factory Season 2 in November 2019, we had initiated a series of conversations and site visits in Calcutta focussing on repurposing spaces for performance. This was towards our big dream of setting up a permanent venue for dance and movement practice, a place where people come to share, experience and exchange ideas, challenge and be challenged back. From April 2020 onwards, we had planned a series of further conversations that would culminate in a symposium in September-October. With the pandemic, that, of course, was now impossible.
We asked ourselves – what was everyone missing? The ability to gather – anywhere, with anyone, for anything. And to gather is a human need – not just a performative one. And we had a direct connection to that .
GATHERING
SPACES FOR GATHERING
SPACES FOR GATHERING FOR PERFORMANCE
SPACES FOR THE ARTS AND COMMUNITIES TO CONNECT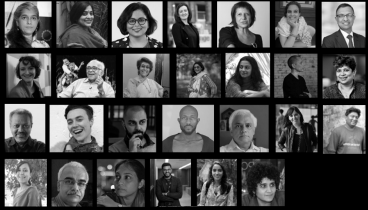 Montage of panelists for Contagion: Performance, Space, Community, Sept – Oct 2020
And so, CONTAGION: Performance, Space, Community was born – a series of 8 curated conversations and presentations addressing the live performance experience as an art and part of the human act of assembly. Curated by Vikram Iyengar, Sharvari Sastry and Christophe Knoch, the series was co-presented by the Pickle Factory Dance Foundation and Goethe-Insititut / Max Mueller Bhavan Kolkata. In losing the ability to gather, we had realised how vital it is for us to assemble together, and to have public spaces that encourage and welcome this most human of desires. The performing arts sector across the world was among the worst hit. This is where CONTAGION: Performance, Space, Community stepped in, with a conviction that the live performance experience is vital for the health of a society and that performance spaces and experiences should be re-imagined as a celebration of that vitality. Over four weekends themed Gather, Question, Catalyse, and Imagine, the series investigated:
• gathering spaces as a societal need
• the uniqueness of the live performance experience
• possible ways forward for artists, audiences and venues to build and celebrate strong and empathetic communities.
For us it was imperative that we get out of our silos of performance and art worlds, and talk to other sectors. Our list of 27 presenters therefore had people from the arts – of course – but also academia, sport, economics and business, public health, education, social activism, the non-profit sector, and digital technologies. We were also especially keen that we feature voices that are not often heard on such platforms avoiding the usual suspects both from India and the global north.