What was it
about ?

Pickle Factory Season 1 spanned five weeks in February-March 2018 across 12 different venues presenting performances, talks, workshops, lecture-demonstrations, dance in public spaces, exhibitions and more by artists from India and abroad. The Season involved 33 partners and 12 venues, reaching more than 4,500 people locally as well as thousands more online.
Curation

Pickle Factory's inaugural season responded to four key words that lie at our core – dance, movement, practice, discourse. The programme located itself in diverse lenses through which to view and perceive work originating from movement artists and the trained, moving, performing body, offering a pluralism of experience and expression. Pickle Factory Season 1 was curated by Vikram Iyengar and presented by the Pickle Factory Dance Foundation in collaboration with Ranan.
Components

Pickle Factory Season 1 comprised three elements:
• A two-week workshop for professional dancers culminating in a series of public interventions, led by award winning choreographer from Edinburgh, Janis Claxton
• A fortnight-long exhibition of installations and art works on the moving body in performance, along with several allied events
• A ten-day festival of performances, conversations, workshops and more, featuring the work of four internationally acclaimed Indian artists: Padmini Chettur, Daminee Basu, Preethi Athreya, Kapila Venu
Visiting Resident Artist:
Janis Claxton 7 to 25 February 2018

"Thank you for the countless hours you've spent working with me. Thank you for
inspiring, helping, and motivating me to achieve new dancing methods – things I
never thought possible.
It was the first time I was participating in this kind of programme. The best thing we
learnt to do was choreography on the spot but with specific techniques. We danced
in front of accidental audiences in the street, museum gardens, main roads and
universities without any music. Now we know we don't need any stage because now
we can see every space like a grand stage."
Vihanga Rukshan, residency participant
BACKGROUND
Janis Claxton Dance company's highly acclaimed work POP-UP Duets (fragments of love) comprises short duets that emerge from ordinary situations in public spaces before an accidental audience. The experience is an infectious and unexpected encounter with dance where accidental audiences across demographics respond with surprise, shock, irritation, realisation and finally engaged participation.

Pickle Factory invited Janis to re-imagine this in and for an Indian context working with Indian dancers, introducing them to improvisation and partnering techniques that underlie POP-UP Duets. Duo improvisations between the dancers then emerged in various public venues across the city.

PROGRAMME
• a two week residency with kathak-trained dancers from Calcutta groups Ranan and Rhythmosaic
• DIPS / POTS Dancing Interventions in Public Spaces / Pickle on the Streets – popup duet improvisations in four very different locations across the city: Jadavpur University, National Institute of Fashion Technology, Chitpur Road, Victoria Memorial Hall Gardens

Videos on the project:
Dancers Speak 1
Dancers Speak 2
Janis Claxton speaks

• Workshops for children, for dancers / dance students, and for pairs of grandparents and grandchildren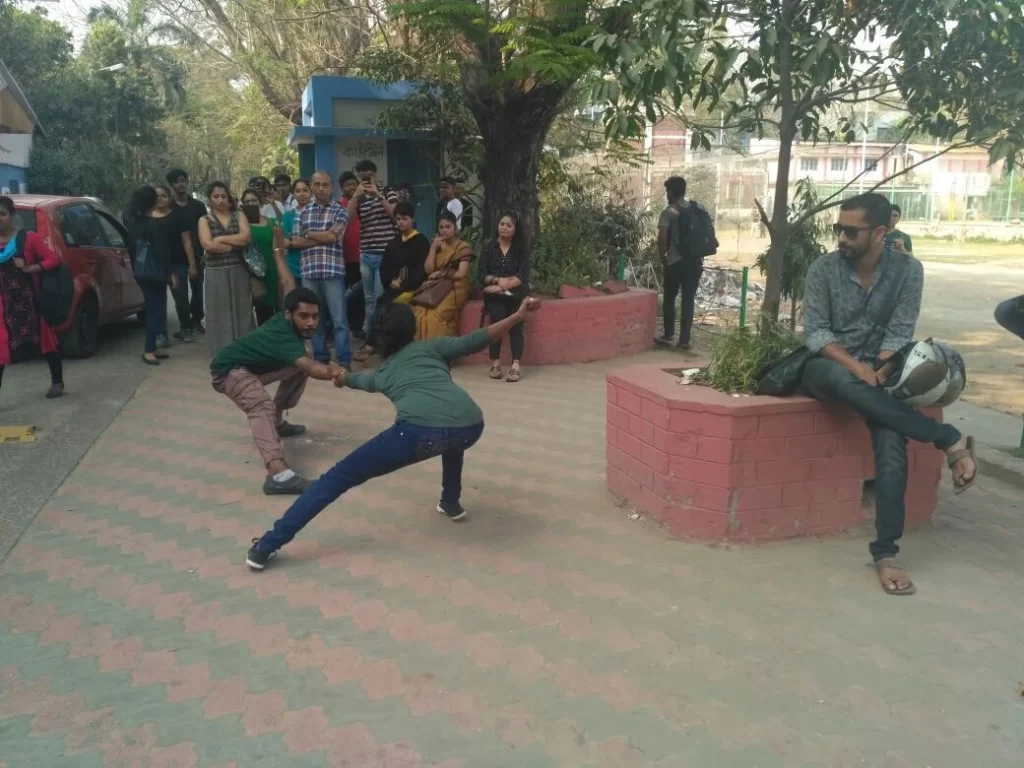 Partners Janis Claxton's participation in Pickle Factory Season 1 was supported by British Council, Creative Scotland, Scottish Government, Janis Claxton Dance, Ranan, Rhythmosaic, Jadavpur University, ThinkArts, Emami Art, Hamdasti, Divya Jalan, National Institute of Fashion Technology, and Victoria Memorial Hall
Exhibition
DANCING WITHout DANCERS

"I am super-excited, because there is a collaboration happening here between classical
dancers, b-boyers, hip-hop dancers, myself – a contemporary dancer. So it's like
knowledge, you're gaining knowledge. So I'm having great fun."
Sayantani Mukherjee, participant in the 'body in motion'
photography project with calcutta instagrammers
An installation of artistic and archival works created with, responding to, and inspired by dancers and movement artists. 
DANCING WITHout DANCERS presented a collection of video and photographic installations from India and abroad, offering ways of encountering the moving body and movement artists in their physical absence. The eclectic selection brought together current and older pieces, and archival material along with special presentations by dancers. The design and layout of the exhibition attempted to provide the experience of movement and space.
CONTRIBUTORS
The installations included:
• Varnam, a 3 screen video installation by Padmini Chettur. Chennai, India
• Endangered Species, a photo collage of a piece by choreographer Siobhan Davies made in response to a voyage to the Arctic. Photographer: Victoria Long. London, UK
• Big Dance Shorts India, a set of 4 dance films presented by Big Dance, Channel 4 and the British Council
• Dance Matters in Kolkata, an installation of archival works by Project Performance Jadavpur University focusing on elements of dance history in Calcutta
• Body in Motion, an installation of photographs created by Calcutta Instagrammers working with local dancers and movement artists
PARTNERS
This exhibition was presented in collaboration with emami art, and was the first to be held at the main gallery of their new arts centre, kolkata centre for creativity.
Festival
1 to 11 March 2018, Gem Cinema

"The Pickle Factory's festival of dance and movement threw open some important
queries facing the world of dance today. The questions pertained to rigour, technique,
individuality and creative expression, both in classical as well as contemporary forms.
The definition of dance was questioned and answers were sought. The spectrum
of expressions included the age-old art of storytelling, Kudiyattam, presented with
stunning modern-day relevance and contemporary choreographies that approached
abstraction with weighty stillness and serenity. The festival created different contexts
and resonances by curating performances with inherently varied thematic and
artistic possibilities. Centred around an unusual venue — the dilapidated, deeply
atmospheric Gem Cinema — the event provided a platform for serious dancers and
their unconventional work.
It was the start of something important. Let us watch it grow."
Kathakali Jana, audience member and dance critic
ARTISTS AND VENUE
The festival featured the work of four internationally acclaimed Indian artists: Padmini Chettur, Daminee Benny Basu, Preethi Athreya, Kapila Venu. The main venue was the wonderfully atmospheric Gem Cinema. The first 70mm cinema in Calcutta, the building was destroyed by a fire in the 1990s. In recent years, the burnt out shell has hosted art installations and music concerts. The Pickle Factory brought live dance and movement work into Gem for the first time.
The venue was designed and programmed to imagine what a permanent hub for performance can be. From 5pm every evening, the space came alive with artist conversations, platform performances by local groups, and a pop-up food court. The featured evening performance was held in the erstwhile main hall of the cinema. Each artist set up the space differently, to create a markedly different spatial experience for the audience each time.
Gem Cinema also hosted an impromptu music concert by the musicians working with Padmini Chettur before the formal opening of the festival. Workshops, talks, artist interviews, and lec-dems were held at other partner venues during the same period.

PROGRAMME

Padmini Chettur: 1 to 5 March 2018
Featured performance – Beautiful Thing 2
In addition to a talk, workshop, conversation, and archive interview

Daminee Benny Basu: 5 to 11 March 2018
Featured performance – Project Stereotype 2
In addition to workshops and conversations

Preethi Athreya: 6 to 10 March 2018
Featured Performance – The Lost Wax Project
In addition to a workshop, conversation and archive interview

Kapila Venu: 9 to 11 March 2018
Featured performance – Saundaryalahari
In addition to a lecture-demonstration, conversation, workshop and archive interview
Our main venue partners for the festival were Gem Cinema and Lata Bajoria.
The festival was supported by many individuals and organisations in various ways:
through sharing artists costs and coordination, providing workshop venues, arranging local hospitality, volunteering their time, and much more:
Emami Art, Sapphire Creations Dance Workshop, Ananda Shankar Centre for the Performing Arts, Kolkata Sanved, Save the Children, Ranan, Kalam Club, DNA Danceworks Bodyworks, Anantara, Jadavpur University, Natyanova Performing Arts Centre, Anita Ratnam, Malavika Banerjee
Credits and Acknowledgements

"A commendable initiative for the City of Joy.
As partners Anantara was very happy to bring to its audience such a wonderful
performance.
We have always found it a challenge to "sell" the performing arts in Kolkata.
Gem Cinema as a venue was fabulous, its character itself is intriguing,
Thank you for opening up the performing arts world to me, at a personal level the
movements were very meaningful in their expressions, many unspoken.
Look forward to many more interesting partnerships."
Anita Kanoi
anantara, programme partner
Pickle Factory Season 1 was made possible by the participation of a whole host of individuals and organisations contributing at many different and vital levels. Our grateful thanks to this wonderful and diverse community that pooled in so many resources to make this happen.
The Season 1 Team
overall management: Vikram Iyengar and Ruchira Das
administration: Debaroti Chakroborty
sponsorship and marketing: Shreya Kanoi
production: Dana Roy
platform performances: Anubha Fatehpuria and Debashree Bhattacharya
venue decor: Anubha Fatehpuria and Richa Bose
site photography: Indudipa Sinha
publicity design: Sukanya Ghosh
website design: Madhushree Basu and Soumadeep Sen
public relations and publicity: Paramita Saha
communication and outreach: ArtsForward Ideas and Events
documentation: Project Performance, Jadavpur University
reservations: BookMyShow
Artists
Janis Claxton
Padmini Chettur
Daminee Benny Basu
Preethi Athreya
Kapila Venu
Season Partners
Goethe-Institut / Max-Mueller Bhavan Kolkata
British Council
Creative Scotland
Scottish Government
Sridar Iyengar
Emami Art / Kolkata Centre for Creativity
Gem Cinema / Lata Bajoria
Jadavpur University Project Performance
Connectors and Advisors
Anjum Katyal
Nandita Palchoudhuri
Gulan Kripalani
Oindrilla Dutt
Friso Maecker
Chandrika Grover
Pooja Sood
Mandeep Raikhy
Christophe Knoch
Jochen Sandig
Barbara Friedrich
Andreas Lübbers
Co-presenters
Emami Art
Anantara
Kalam Club
Richa Agarwal
Reena Dewan
Anita Kanoi
Mukul Agarwal
Malavika Banerjee
Residency Participants / Partners / Hosts
Samila Bhattacharya
Rhea Dawn
Indudipa Sinha
Darshana Borkotoky
Ama Nethmi
Vihanga Rukshan
Rhythmosaic
Ronnie Ghosh
Mitul Sengupta
Ranan
Debashree Bhattacharya
Sohini Debnath
Janis Claxton Dance
Divya Jalan
Jadavpur University Department
of Comparative Literature
Samantak Das
Ranan Workspace
Logistics, Hospitality, Documentation
(welcome kits, domestic travel, local transport, accommodation, receptions, video, photography)
Jyoti Sharma
Anita Ratnam
Sapphire Creations Dance Company
Malavika Banerjee
Hamdasti
Sumona Chakravarty
Jardine Henderson
Samrat Dutta
Mohana Iyer
Priyadarshini Ghosh
Ruchira Das
Paramita Saha
Arts Forward
Priti Patel
Mukul Agarwal
Jayanta Sengupta
Lata Bajoria
Riti Sharma
Nilanjana Gupta
Indudipa Sinha
Jayati Chakraborty
"Pickle Factory provided an enriching platform where audience were triggered to converse, understand, appreciate, critique and in the process grow and evolve. It was a thought provoking experience… a wonderful opportunity to see each artist perform their creative pieces reflecting years of hard work and rigour, each unique in their approach, thought process, practice, research and philosophy.

Pickle Factory has definitely helped in broadening the mental make up for a better understanding and assimilation of art as a whole and dance in particular."
Debashree Bhattacharya and Sohini Debnath, calcutta dancers and audience members
"A huge congratulations from all of the dance community across the world. I am very proud of all that you have achieved. I can well imagine what delicate and multiple logistics were involved in pulling off TPF's first season.
I am happy to have supported you."
Dr. Anita Ratnam, dancer and choreographer,
founder of narthaki.com
Venue Hub
food stalls, seating,
design elements, equipment
Sienna
Darshan Shah
Toopsie's Table
Ishee'z Kitchen
Pop up and Potpourrie
Nawab's
Lata Bajoria
Dana Roy
Anubha Fatehpuria
Richa Bose

Volunteers
Sampritee Ghatak
Aopala Banerjee
Jennifer Kishan
Abhisikta Dasgupta
Sohini Banerjee
Arna Sarkar
Kriti Ghosh
Rudrani Guha
Workshops and Event Partners and Hosts
Natyanova
Calcutta Instagrammers
Jamsteady
Cal Bunka
Think Arts
Mirror Workshops
Kolkata Sanved
Save the Children
Studio 21
Curious Little
Ranan Workspace
3 Dover Park
Kolkata Centre for Creativity
Ananda Shankar Centre for Performing
Arts
DNA Danceworks Bodyworks
Victoria Memorial Hall
National Institute of Fashion Technology
Jadavpur University
Tanusree Shankar
Ruchira Das
Tamali Bhattacharya
Platform Performances
4th Bell Theatre
Subarna Banerjee
Bohuswar
Palash Chaturvedi / Pratigya Ghosh /
Karanjit Singh
Nayeeka Theatre
Anubha Fatehpuria
Debashree Bhattacharya
Nilanjana Gupta
Sruti Banerjee
Samik Bandopadhyay
Photo Walk Participants
Sammyabrata Mullick
Kallol Bhattacharya
Rhea Dawn
Ranu Saha
Sayantani Mukherjee
Pintu Das
Ankita Duttagupta
Rajdeep Banerjee
Rittik Bhattacharya
Pawan Choudhary
Surojit Maity
Naveen Choudhary
Dibyendu Tarafdar
Gargi Mukherjee
Arnab Jana
Kaustav Sarkar
Anupam Guha
Shaayer Mukherjee
Ritesh Ghosh
Suprotim Nandi
Ananya Das
Subhajit Sen