Dance, Interrupted: Creativity, Constraints, Covid
What was it
about ?

In May 2020, when we were even deeper in the throes of the pandemic, Alliance Française du Bengal approached us to imagine an online conversation between dance practitioners, writers and academics, to discuss how this global standstill affected us as performers and audiences and what we could learn from it. Dance, Interrupted: Creativity, Constraints, Covid saw Ranjana Dave (artist & writer; New Delhi), Poorna Swami (independant choreographer, dancer & writer; Bangalore) and Debaroti Chakraborty (Assistant Professor in the Department of Performing Arts, Presidency University, Calcutta) discuss what happens when the fundamentals of live performance are thrown asunder. Around 1k viewers joined us for the online livecast both on the Alliance Française du Bengal and Pickle Factory Facebook pages.
"I think we haven't taken the time as artists to figure out what we are doing in this time [where] everyone [is] beginning to perform in their living rooms. There [is] no real thinking about 'okay, what does my form do when we're not in this situation?' I think our eagerness, or thoughtlessness of jumping onto this 'let-me-dosomething' [in the digital space] comes from a very capitalist space that we all operate in. And it also comes from living in a world (before this lockdown) of always feeling that we are somehow irrelevant as artists… But dance or the Arts could be more relevant if it wasn't so reactive"

Poorna Swami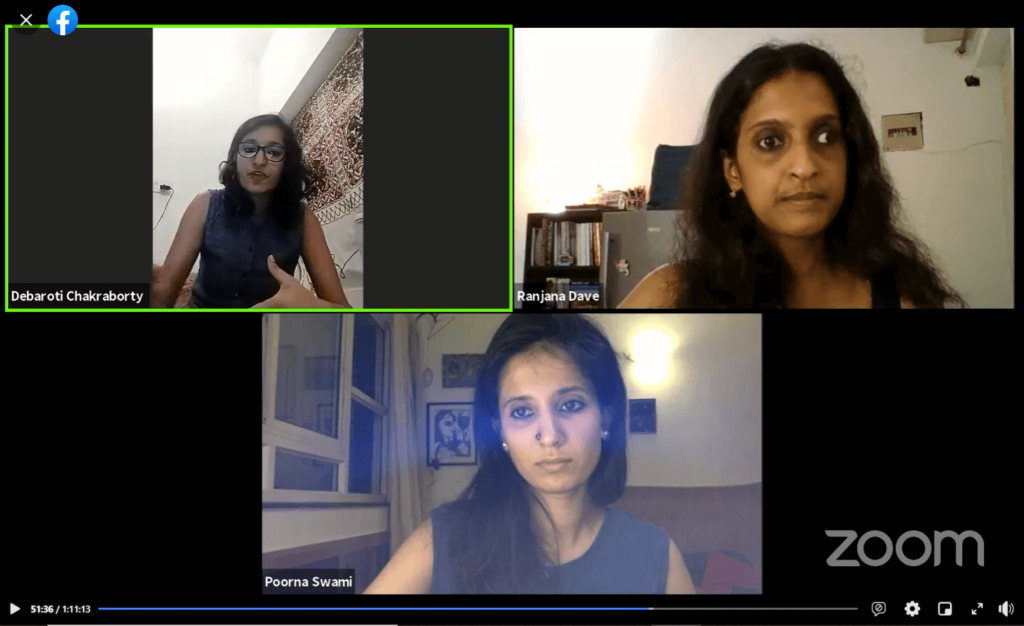 Pickle Factory Dance Foundation, Calcutta is a not-for-profit
company registered under Section 8 of The Companies Act, 2013.
The company was incorporated on 12 July 2017.
© All images and text are copyright of Pickle Factory
except where otherwise specified.