What was it
about?

Pickle Factory Dance Foundation partnered with Topcat CCU on a new series – Body Languages, where we explored movement with a featured practitioner each week. The series ran through every Wednesday,  from April to June, 2020 6pm. The sessions were rich in content, featured artists from Calcutta and beyond demonstrating and performing their art, elucidating on how and why they make work, and sharing movement phrases and exercises for viewers to explore themselves during the live interaction.
Click here for a playlist of the session recaps.
What was the
Project?

Designed to be accessible and informal to invite people to participate and engage, the ten sessions saw classical and contemporary dancers, circus artists, puppeteers, dance therapy practitioners and more from Calcutta, Imphal, Delhi, Mumbai, Sydney, Brisbane, and Edinburgh. The sessions were livestreamed on Facebook and YouTube, reaching more than 4500 people across platforms. Each artist shared what drove their creative passion, gave us glimpses of their rehearsal processes and production work, led us through some movement exercises, then answered questions from the online audience in a free-flowing conversation. The lively interaction between audience members and artists afforded a different online experience, one where both parties felt 'more (a)live' and creatively inspired… a challenge given that the world was being forced into a virtual space at the time.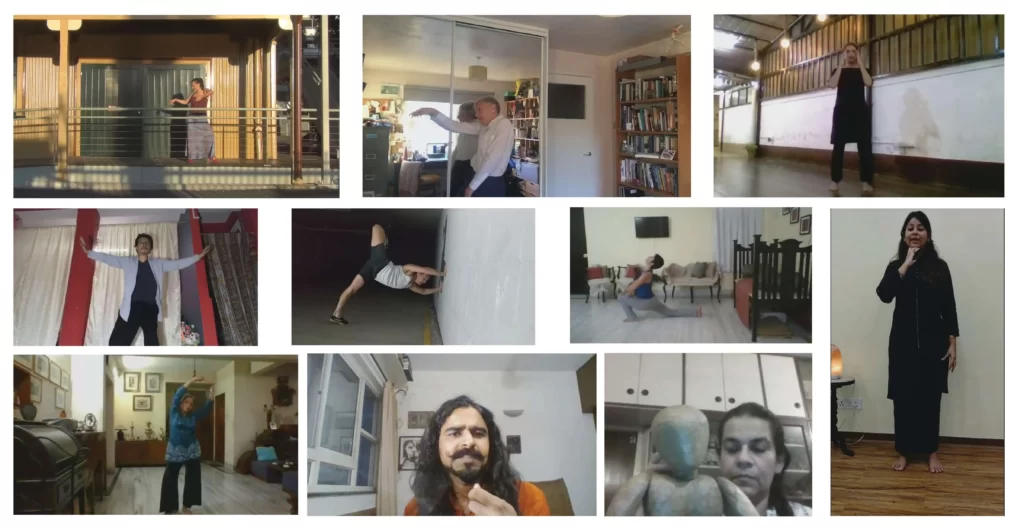 The
Artists?

Paramita Saha who reflected her tumultuous thoughts on the current global pandemic we're living through.
Shashwati Garai Ghosh who then journeyed through a raga exploring their space, vibrations and stories.
David Carberry & Alice Muntz who explored universal themes in response to the global pandemic we were witnessing.
Annalouise Paul, who explored multiple meanings of home and homelessness within one's own self, through experimental Flamenco flourishes.
Surjit Nongmeikapam's experimental dance was full of heart and throbbed with life, dreams and imagination.
Anurupa Roy who introduced us to the science behind puppet movements.
Christine Devaney who explored her ongoing musings between moving, music and writing.
Sujay Saple, who shared snippets of his choreographies from 2012 to the present.
Angira Chakravorty Dasgupta who took us through a healing exercise based on developmental Dance Therapy patterns.
Priyadarshini Ghosh who elaborated on the principles that govern her dance and movement practice — elements of meditative and mindfulness practices weaving together Yoga and dance.
Pickle Factory Dance Foundation, Calcutta is a not-for-profit
company registered under Section 8 of The Companies Act, 2013.
The company was incorporated on 12 July 2017.
© All images and text are copyright of Pickle Factory
except where otherwise specified.